INNOVATIVE CONSTRUCTION METHODS IN AL HAIFA BRIDGE, MADE POSSIBLE BY ALMETSAN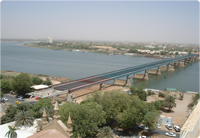 In Sudan's capital, Khartoum State Ministry of Physical Planning and Utilities has come to decision to connect two population centers namely Omdurman and Haifa located along the river of Nile via Al Haifa Bridge. The bridge has been designed and built with length of 910 meters and width of 27 meters for six traffic lanes and 2 pedestrian lanes.
The consultant of the project has been ACE Consulting Engineers with the main contractor Yapı Merkezi Corporation. The groundbreaking ceremony of the project has been done in 29th October 2007 and the bridge has been put to service at date of 28th February 2011.
By means of utilizing innovative construction methods, the duration of construction has been severely shortened, design in accordance with local conditions has been performed and the aimed quality standards and the overall project targets have been met in the project of Al Haifa Bridge.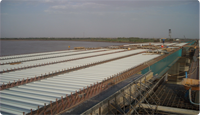 Use of precast concrete members for bored pile foundations, use of Aldeck products by Almetsan and the half-integral design of the bridge have enabled the completion of the bridge in about 2 years despite the challenging climate conditions. The construction speed is remarkable when compared with the benchmark projects on Nile River by other companies which had been completed in 4-5 years.
Use of precast concrete members for bored pile foundations have enabled both concrete works to be done above water level and an aesthetical architectural look in front of bored piles. Aldeck composite decking products which have been used in the deck of the bridge have both increased speed of construction and reduced need for cranes. Applicable aesthetical principles combined with functional structures have brought architectural and performance excellence in the Al Haifa Bridge.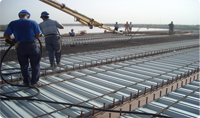 Almetsan's Aldeck composite deck has been preferred in the project due to its contribution in faster construction of the decking of the bridge above the river. According to the project design specifications, the Aldeck composite steel deck have not been considered as the load-bearing structural members but rather as permanent shuttering. Bottom part of Aldeck products have been manufactured in the same color with the main steel structure of the bridge so to improve the architectural performance, corrosion resistance and the ease of installation. By this method of deck construction, the use of cranes in the project has been minimized and the site safety for construction workers has been significantly improved.