COMPOSITE STEEL DECKING FOR AL KHALIJ POWER PLANT HAS BEEN DELIVERED BY ALMETSAN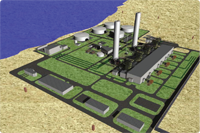 Al Khalij Power Plant is a 4X350MW combined cycle power plant which is going to be operated by General Electricity Company (GECOL). Located on the Mediterranean Sea, the Plant is 450 km east of Tripoli and 20 km west of Surt, Libya. The project has commenced in December 2009 and the estimated completion date is October 2014.

Bechtel Power Corporation is acting as the Client's engineer providing complete engineering, project and construction management services. The Gama Industries Corporation is the main contractor of the project and design works with Tekfen Engineering Corporation as subcontractor for performing the civil/structural, architectural and low voltage electrical design works.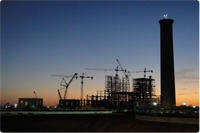 The project includes the following major works of 1.500.000 m3 of earthworks, 52.000 meters of cast-in-situ bored piles, 160.000 m3 of reinforced concrete works and 11.500 tons of steel construction. Approximately 30.000m2 composite steel decking was also part of the steel construction work. Only a handful of manufacturers in the world were eligible for the supply of composite steel decking in this project. The project required use of 1,3mm and 1,2mm S350GD+Z275 steel decking of high structural performance due to heavy static and live loads and high design specifications.

Almetsan was preferred as supplier of composite steel decking of this project for the overall quality management system, former experience in the field, service speed, economic competitiveness and its high performance product, Aldeck70/915. The delivery of all steel decking was completed in 2010 within two months in coordination with Gama and Bechtel engineers.