ROOFING SHEETS FOR GREEN ROOF OF MEYDAN SHOPPING MALL DELIVERED BY ALMETSAN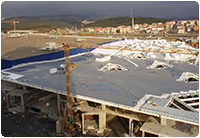 Meydan Shopping Mall in İstanbul owned by Metro Properties AG, has opened up in year 2007 with many innovative designs practiced first time in Turkey in its category. The London-based architect Office Foreign Architects Group has been the designer of the shopping mall with Alejandro Zaera Polo and Farshid Moussavi in the design team of the Project. The concrete columns accompanied with steel beams create a closed area of 55.000 m2 . The Project has been awarded in the shopping mall category by ArkiPARC Real Estate in Turkey in 2008. Additionally, the project has won the "Prime Property" award, the first European award for the sustainable real estate investors in Europe among 90 projects from 18 European countries and the European Commission's "European Environment Award" in "Processes" category in 2008. Again, In May of 2008 the project has been rewarded with the "Excellence" award by European Urban
Land Institute because of its innovative and environment-friendly design. Meydan Shopping Mall with natural green area on top of the roof, and the wide convenient pass-through from the shopping area to the plaza has a total area of70.000m2 including around 50 stores, restaurants, cafes and a cinema hall and the
first Media-Markt store opened in Turkey.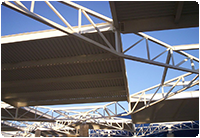 Meydan Shopping Mall is a best-practice example with its ecological features. Climatization of the shopping mall has been done with fully renewable geothermic energy. None of the classical heating or cooling systems have been used in the project but rather energy in the water inside the pipes under the ground was utilized, thus annual savings of 1.3 million kWh of electrical energy was made possible.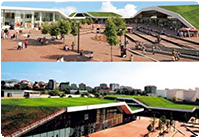 In Meydan Shopping Mall, all roof area is about 55.000m2 of which 30.000m2 is green roof and some parts of the green roof are open to visitors as pedestrian way. Green roof, besides its aesthetical contribution, is also a great heat insulator which allows significant energy savings for the building. Additionally the soil on the roof acts as a natural filter for the chemical particles and dangerous substances in the air of the city. The green roof in the mall is exposed to loads of more than 300 kg per m2 due to soil and live load. With the load and span combination of this building, the classical roofing products were not eligible for this project. Therefore, Almetsan's 55/840 Trapezoidal sheets were preferred in the project because of their optimum performance in such span/load combinations. On top of the trapezoidal sheets, rock wool and then membrane was applied.